Click here to download FRENIC-MEGA brochure. (6.4MB PDF file)
FRENIC-MEGA
The first slim-type inverter specialized in energy-saving.
By Fuji Electric (www.fujielectric.com)
---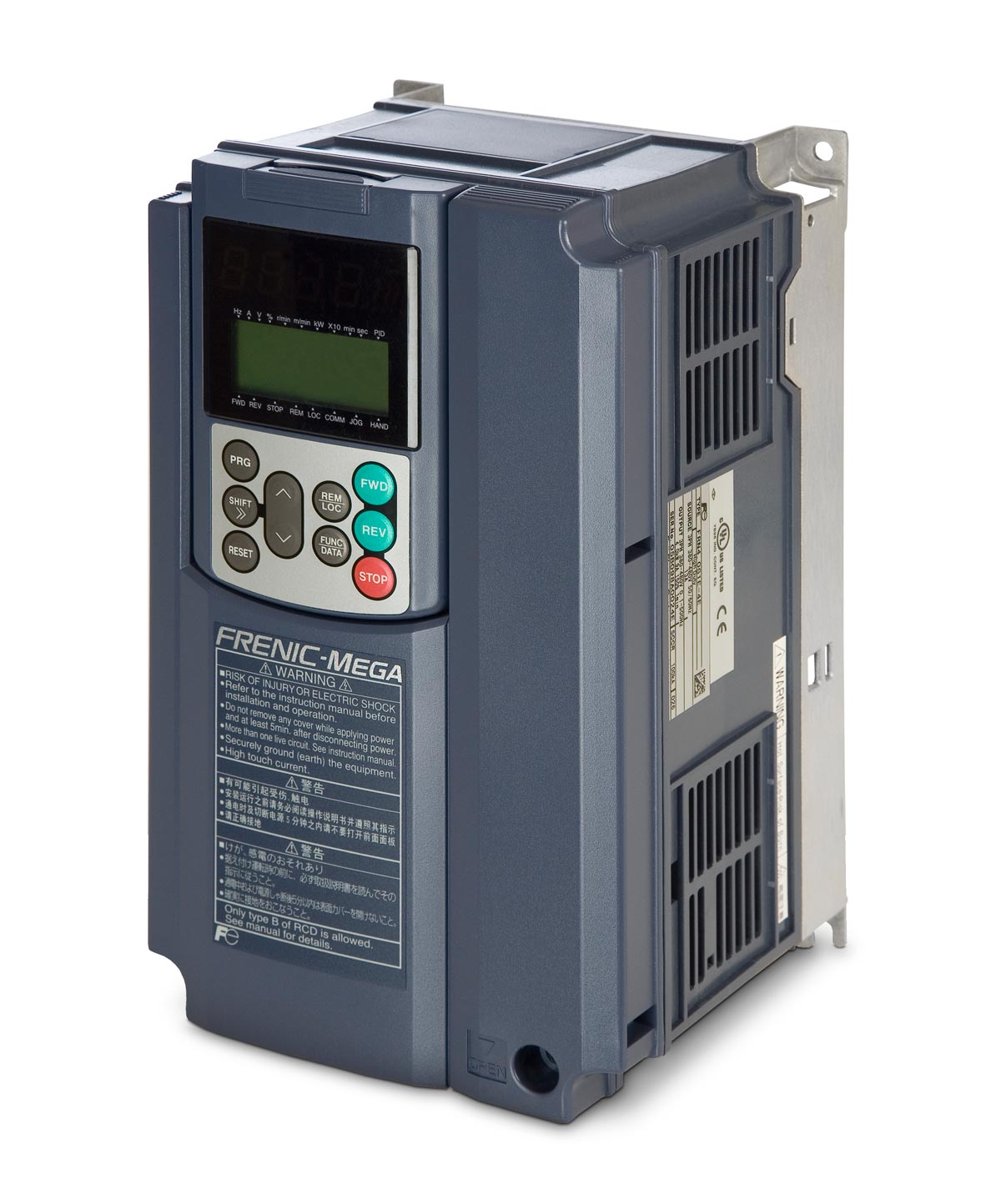 Basic Technical Data
STANDARD SPECIFICATIONS (BASIC TYPE)
HD (HIGH DUTY) HEAVY LOAD
LD (LOW DUTY) LIGHT LOAD
SINGLE PHASE MODEL SPECIFICATIONS. 0.1KW TO 2.2KW 200V CLASS SERIES (BASIC TYPE)
EMC FILTER BUILT IN TYPE SPECIFICATION FOR 3PH 200V 400V CLASS SERIES
EMC FILTER BUILT IN TYPE SPECIFICATION FOR SINGLE PHASE 200V CLASS SERIES.
DC REACTOR OPTION
* 2 ANALOG INPUTS,
* 7 PROGRAMMABLE DIGITAL INPUT
* BUILT IN SAFE TORQUE OFF (STO).
* 1 DRY CONTACT RELAY OUTPUT (PROGRAMMABLE)
* 2 TRANSISTOR OUTPUT (PROGRAMMABLE).
* 2 ANALOG OUTPUT (PROGRAMMABLE).
* RS 485 COM PORT (MODBUS RTU) STANDARD EQUIPMENT.
OPTION DEVICE: DEVICENET, CANOPEN, CC-LINK, PROFIBUS-DP, ETHERNET/IP, PROFINET-RT
Advantages:
CUSTOMIZABLE LOGIC FUNCTIONS (Maximum of 200 steps including both digital and analog operation function).
WIDE VARIETY OF FUNCTIONS AS STANDARD FEATURES Sensor less dynamic torque vector control, Motor vector control with PG (with optional card), Synchronous motor with sensor less vector control, 2-channel on-board RS485 communications port, Standard CAN open compatibility, Removable keypad device, Removable control terminal block board.
SUPERIOR FLEXIBILITY Frenic-Ace has readily available interface cards and various types of fieldbus / network to maximize its flexibility.
MULTI FUNCTION KEYPAD (OPTION) Multi-function keypad with LCD display: Enhanced HMI functionality Keypad with USB Port: Connect to a computer for more efficient operation (set -up, troubleshooting, maintenance, etc.)
10 YEARS LIFETIME DESIGN.